Direct Image® Data Acquisition System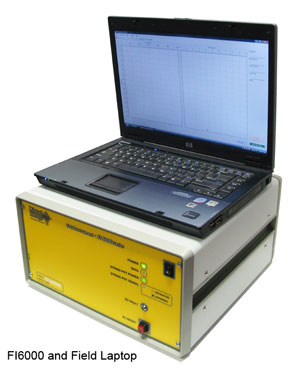 Geoprobe®-DI FI6003 Series Data Acquisition System is the new back bone for Geoprobe® direct push Electrical Conductivity (EC), Membrane Interface Probe (MIP), and Hydraulic Profiling Tool (HPT) logging systems.
Geoprobe Systems® has designed the FI6003 from the ground up with reliability as our primary goal. Internal connections and modular components have been specifically designed to withstand the rigors of field operations. As a stand-alone instrument, the FI6003 performs Electrical Conductivity (EC) logging. When coupled to the appropriate controller, the FI6003 provides the data acquisition and control interface for MIP and HPT logging systems.
The FI6003 connects directly via a USB connection to a field laptop running Geoprobe®-DI Logging software for viewing, saving, and transmitting Direct Image® logs. This combination yields an extremely reliable and easily operated data acquisition system. Pre and Post log self-test features built into the logging software make it easy for the operator to know the system is functioning properly. Test results are automatically saved in the log file.
Geoprobe®-DI Logging software allows the user to customize how the log is displayed on the screen, for example graph scale can be quickly changed as the data is displayed allowing the operator to pick out fine details of the log, MIP detectors can be given descriptive names, and order of the graphs displayed during log acquisition can be customized. The FI6003 Field Instrument makes collecting and managing your logging data easier than ever before.
Features & Benefits:
System QA pre and post log testing built into the Geoprobe®-DI Logging software.
Logs are saved directly to field laptop making it easy to view and transmit data back to the office.
When used with DI-Viewer software logs are easily reviewed and printed in the field.
Trunkline and stringpot connections are identical to previous Field Instruments.
When GPS is connected to field laptop location coordinates are saved to the data file.
Geoprobe®-DI Logging software updates can be downloaded from the Geoprobe®-DI website geoprobe.com.
Log data stored in a single *.zip folder.
FI6003 allows simultaneous logging of MIP and CPT on same laptop.
Over-current fault protection for the EC measurement circuitry is built-in. This protects the EC system from accidental connection to MIP or HTL systems.
DI-Viewer software is available for free distribution.
Geoprobe®-DI Logging software is compatible with XP, Vista, Windows 7 and 8 Operating Systems.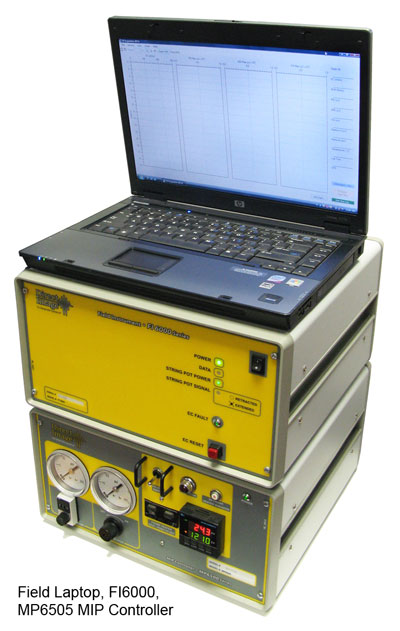 PC minimum hardware requirements:
1 GHz Pentium compatible processor, 1 GB RAM, 600 MB free space on hard drive, CD/DVD drive, USB 2.0 port, minimum screen resolution 1024 x 768.
FI6003 Specifications:
Power requirements: 210VAC-250VAC (50/45W)
Internal A/D : 15-bit
EC voltage : 0.75 VAC
Computer connection : TYPE A male to TYPE B male USB cable
MIP/HPT controller connection : 62 pin high density DB
Wheight : 10,4kg – Dimensions : 363 x 363 x 197mm